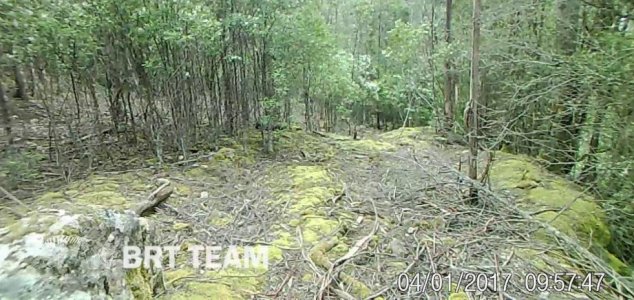 The mystery animal is difficult to make out.

Image Credit: BRT Team / YouTube / Rob Inglis
Three researchers in Australia have recently revealed trail camera footage of a mysterious animal.
Known as the Booth Richardson Tiger Team, the trio had been monitoring a remote area of bushland in Southern Tasmania for evidence of the elusive Tasmanian tiger - a carnivorous marsupial that was believed to have been hunted to extinction in the early part of the 20th century.
The researchers were inspired to hunt for the creature after Greg Booth, a firewood cutter from Tasmania's Central Highlands, encountered what he believed to be a thylacine in April 2015.
Now after monitoring the area for over two years using 14 different cameras, the trio have come forward with footage of an unknown creature that was recorded at dusk on November 4, 2016.
The video, which can be viewed below, has since gone viral.
The footage contains two potential sightings, one of something close up to the camera at 2:45 and another around 15 seconds later which shows a four-legged animal walking in the distance.
Source: TheMercury.com.au | Comments (71)
Similar stories based on this topic:
Tags: Thylacine, Tasmanian Tiger