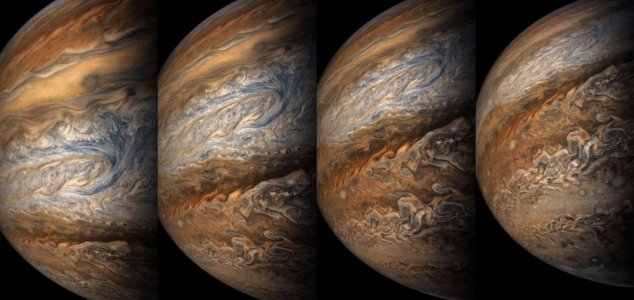 Image Credit: NASA/JPL-Caltech/SwRI/MSSS/Gerald Eichstadt/Sean Doran
NASA's Juno probe has sent back four breathtaking new images of the gas giant's swirling atmosphere.
The $1.1 billion spacecraft, which arrived in orbit around Jupiter back in July 2016, captured the images over a period of eight minutes during its most recent flyby at the beginning of September.
While Jupiter's iconic Great Red Spot, a 10,000-mile-wide storm that has been raging in the planet's atmosphere for more than 350 years, is not visible in the images, other swirling storms, as well as Jupiter's distinctive cloud bands, can be clearly seen covering the planet.
"At the times the images were taken, the spacecraft ranged from 7,545 to 14,234 miles from the tops of the clouds of the planet at a latitude range of -28.5406 to -44.4912 degrees," NASA wrote.
An animation showing the gas giant's powerful aurora can also be viewed below.
Source: Space.com | Comments (55)
Tags: Juno, Jupiter