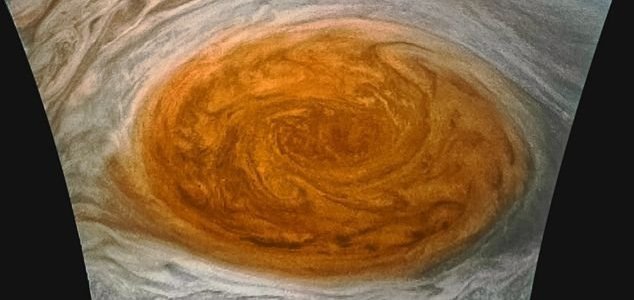 A raw image of Jupiter's Great Red Spot.

Image Credit: NASA / JPL
The space probe has captured staggeringly detailed shots of Jupiter's centuries-old Great Red Spot.
The $1.1 billion spacecraft, which arrived in orbit around the gas giant back in July 2016, performed a flyby of the planet's most prominent feature three days ago.
The Great Red Spot, which measures over 10,000 miles across, is a huge, violent storm that is believed to have been raging in the gas giant's atmosphere for more than 350 years.
The new photographs are the most detailed shots of this region of Jupiter ever taken.
"It is tremendously exciting," said planetary scientist Leigh Fletcher. "We have been wanting to see the Great Red Spot this close and at this level of detail ever since modern astronomy began."
The image data will now be analyzed and processed to produce stunning new pictures.
"The main impression I have is the beauty of them," Juno program scientist Jared Espley said of Jupiter's atmospheric swirls and patterns. "These are works of natural art."
Source: The Guardian | Comments (10)
Tags: Jupiter, Juno