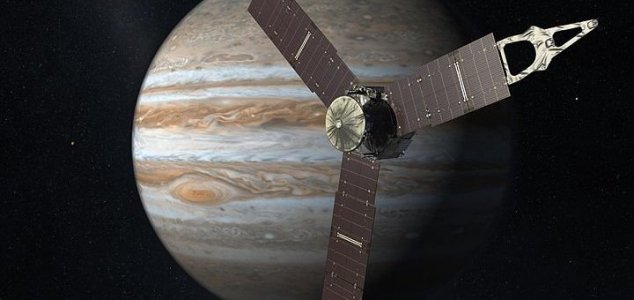 Jupiter's storms extend a long way down.

Image Credit: NASA / JPL
NASA's Juno probe has been revealing more about Jupiter's internal structure than ever before.
The $1.1 billion spacecraft, which arrived in orbit around Jupiter in 2016, has been studying variations in the gas giant's gravitational pull to help build up a picture of what lies beneath its surface.
The probe's latest findings indicate that Jupiter's wind-sculpted bands extend down over 3,000km.
"This solves a long-time mystery," Juno scientist Tristan Guillot told BBC News.
"For over 40 years we didn't know whether the bands would go all the way to the center, or whether they were just skin deep. Three thousand km is actually quite deep. It's 1% of the mass of the planet. Jupiter's very big so it's about three Earth masses that are involved in this motion."
"This is all really important for understanding atmospheric dynamics, not just on Jupiter but on other gaseous planets like Saturn, Uranus and Neptune and also the exoplanets we're now discovering."
Source: BBC News | Comments (0)
Similar stories based on this topic:
Tags: Jupiter, Juno