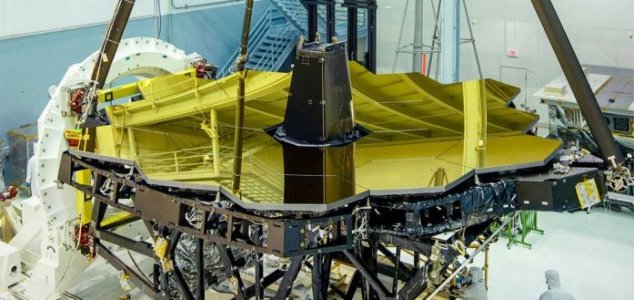 The James Webb Space Telescope will launch eventually.

Image Credit: NASA
The launch of the giant orbital telescope has been pushed back from October 2018 to Spring 2019.
The result of a long-running international collaboration between NASA, ESA and the Canadian Space Agency, the James Webb Space Telescope will provide scientists with an unprecedented view of the cosmos thanks to a resolution and sensitivity that is unrivalled by anything that has come before.
Its primary goals will be to image some of the first stars and galaxies to have formed after the Big Bang, to study the formation and evolution of galaxies, to better understand the formation of stars and planets and to study the origins of life in the universe.
It should even be able to provide clearer direct imaging of planets in orbit around distant stars.
For now though, all this will have to wait just a little bit longer as the launch of the James Webb has been pushed back again, this time until the beginning of 2019.
"The change in launch timing is not indicative of hardware or technical performance concerns," said Thomas Zurbuchen, associate administrator for NASA's Science Mission Directorate.
"Rather, the integration of the various spacecraft elements is taking longer than expected."
Source: NASA.gov | Comments (14)
Tags: James Webb Space Telescope