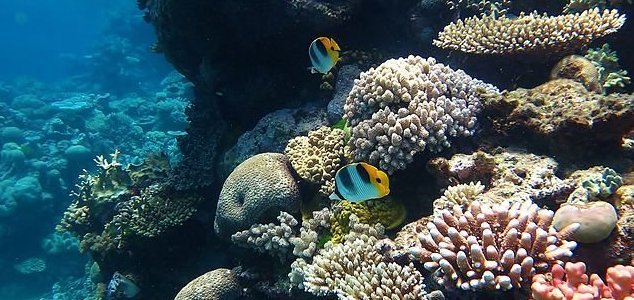 The Great Barrier Reef has been in decline for years.

Image Credit: CC BY-SA 4.0 Wise Hok Wai Lum
A giant sinkhole has provided something of a refuge for the coral during a time of significant decline.
Discovered on Google Maps by marine biologist Johnny Gaskell, the 'blue hole' turned out to be a hidden lagoon descending to a depth of approximately 50 - 65ft.
When he ventured to the site to investigate it for himself, he found that the hole was filled with significant coral growth that had managed to escape the decline found elsewhere on the reef.
Even a cyclone that had passed by a few months earlier didn't seem to have done any damage.
"After spotting this deep blue hole on google maps we decided to head far offshore, out further than our normal Reef trips to see what dwelled within," Gaskell wrote on Instagram.
"At around 15m - 20m deep there was huge Birdsnest Corals (Seriatopora) and super elongated Staghorn Corals (Acropora) both of which were among the biggest and most delicate colonies I've ever seen. Totally unaffected by the cyclone."
"The position of this deep hole within the lagoon walls has obviously protected these corals for decades."
Source: Inquisitr.com | Comments (4)
Tags: Great Barrier Reef