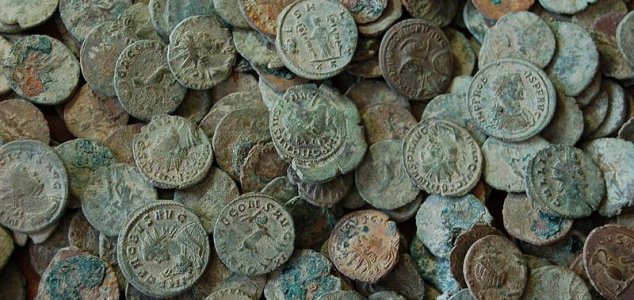 The coins date back over 2,000 years.

Image Credit: CC BY-SA 2.0 Portable Antiquities Scheme
Thought to be worth more than $250,000, the once-in-a-lifetime discovery was made using a metal detector.
Amateur historian and metal detector enthusiast Mike Smale had been investigating a farmer's field in Bridport, England, with his colleagues from the Southern Detectorists club when he came across a hoard of 600 rare denarii buried just beneath the surface.
The coins, which date back to the time when Roman general Mark Antony was still in an alliance with his Egyptian lover Queen Cleopatra, are extremely rare and worth up to $1,000 each.
"It was incredible, a true once-in-a-lifetime find," said Smale. "I had a good idea about what it was - I had already found one or two Roman denarii that morning. When I found it everyone came over to have a look and find out what it was."
It is believed that the coins had originally been contained within some sort of ceramic vessel.
"I've never seen a hoard of this size before," said fellow metal detector enthusiast Sean MacDonald. "We found one in Somerset last year but there were just 180, and they weren't of the same calibre. "
"The archaeologists excavating it couldn't believe what they were seeing because these coins are so rare. I personally think a find of this size and variety will never be found again."
Source: Plymouth Herald | Comments (9)
Tags: Roman Coins