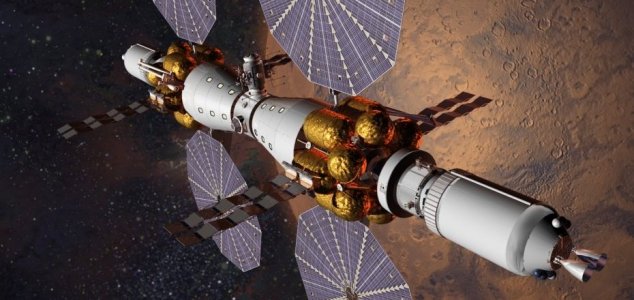 Could we see humans orbiting Mars within the next decade ?

Image Credit: Lockheed Martin
Lockheed Martin is aiming to place a space station around Mars and to land astronauts on its surface.
The US defense and aerospace company announced on Thursday that it would be expanding its futuristic 'Mars Base Camp' proposal to include a manned landing vehicle as well.
The original plan was to construct a space station in Martian orbit by 2028 where astronauts could study the planet's atmosphere and operate rovers on its surface.
Now Lockheed has revealed its latest addition - the Mars Ascent/Descent Vehicle (MADV).
Using supersonic retropropulsion, this crewed vehicle would be able to detach from the space station and head down on to the surface of Mars for missions lasting up to two weeks.
The lander would use liquid hydrogen fuel, something that could eventually be produced in space from water ice harvested from either asteroids or from shaded craters on Mars' two moons.
"Base camps are not a destination unto themselves," said Lockheed's Rob Chambers. "They're a place from which you then set out - in this case, to descend to the surfaces of other worlds."
Source: Space.com | Comments (13)
Tags: Lockheed, Mars