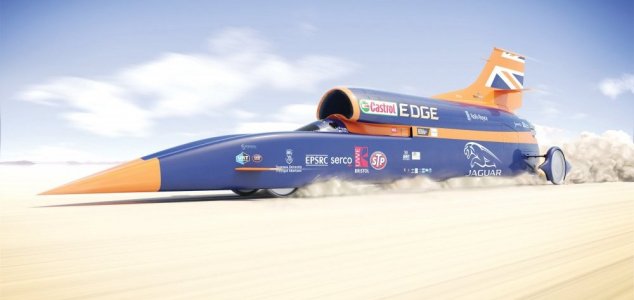 Can the Bloodhound SSC hit 1,000 miles per hour ?

Image Credit: YouTube / Bloodhound SSC
Known as Bloodhound, the supersonic racing car will attempt to break the land-speed record in October.
Developed through a collaboration between 280 companies worldwide, the UK's Bloodhound SSC has been meticulously designed with the goal of exceeding the 1,000mph barrier for the first time ever.
To achieve this, the vehicle will first use its Rolls-Royce jet turbine engine to take it up to speeds of around 300mph before activating its powerful rocket engine to propel it the rest of the way.
The vehicle's third engine, a supercharged V8 Jaguar F-Type, will be supplying the rocket with hydrogen peroxide fuel at it goes along.
Together the three engines will produce 133,151bhp - the equivalent to 180 Formula One cars, while propelling the car at a speed that will cover a mile in just 3.6 seconds.
This week the team achieved what has been described as a "huge engineering milestone" by firing up the car's powerful jet engine and taking it up to maximum reheat for the first time.
The actual record attempt is due to take place in October on a 1.7-mile strip of runway in Newquay.
"Integrating a Eurofighter Typhoon jet engine into the car is a huge challenge; however, we have succeeded," said Stuart Edmondson, head of engineering operations.
"Witnessing the EJ200 jet engine at maximum reheat is a fantastic experience. Not only can you see the shock diamonds and hear the deafening noise, you can physically feel the power of the engine as your body shakes."
Source: Sky News | Comments (19)
Tags: Bloodhound