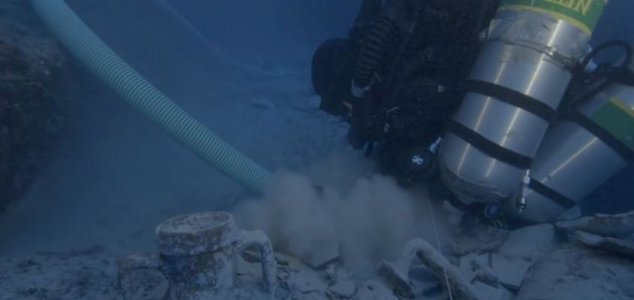 The wreckage was discovered in 1900.

Image Credit: YouTube / Return to Antikythera
Divers have recovered several statue pieces and a mystery bronze disc from the 2,000-year-old shipwreck.
Located on the sea floor off the island of Antikythera, the ancient sailing vessel, which is believed to be one of the largest Roman era ships ever found, was originally home to the famous Antikythera mechanism, an early 'computer' that was used by seafarers to chart the motion of the planets.
First discovered by sponge divers 117 years ago, the wreck has yielded a great number of fascinating items and now, following a series of recent dives, archaeologists have uncovered evidence of seven large bronze statues as well as a mysterious bronze disc decorated with the image of a bull.
Described as 'extremely exciting', the statue finds are particularly important because only a small number of bronze statues are known to have survived from the ancient world and most have been altered or treated in some way by previous conservators, destroying vital information.
So far only a few mismatched limbs have been found however divers are now focusing their efforts on locating the rest of the pieces which must still be down in the wreckage somewhere.
If they succeed, it could significantly enhance our knowledge of that particular time period.
"What we're finding is these sculptures are in among and under the boulders," said excavation team co-director Brendan Foley of Lund University. "We think it means a minimum of seven, and potentially nine, bronze sculptures still waiting for us down there."
Source: Nature.com | Comments (4)
Tags: Antikythera Mechanism