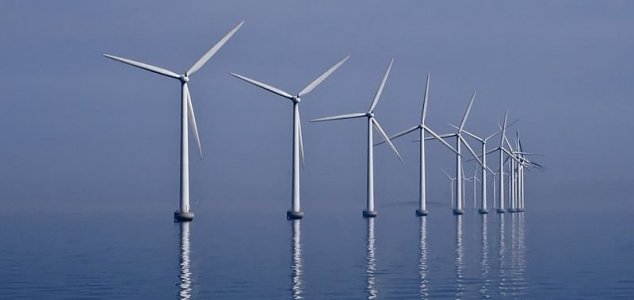 Is this the future of electricity generation ?

Image Credit: CC BY-SA 3.0 Kim Hansen
Scientists believe that wind farms in the North Atlantic could provide enough electricity to power the world.
Floating wind farms could one day help to provide the majority of the world's power, that is, at least, according to a new paper published this week which claims that ocean-based wind farms are capable of producing three times as much electricity as land-based sites.
Until now, wind turbines placed at sea have had to be anchored to the sea floor, but with the advent of floating turbines it will become possible to place much larger wind farms further away from the shore.
One of the plans considered for the study describes a wind farm covering 70,000 sq km of the North Atlantic with the capacity to power the entire United States for ten months of the year.
Set up enough such sites, scientists argue, and it may even be possible to power the whole world.
The first ever floating wind farm, which is known as Hywind, is currently being constructed off the coast of Scotland and is set to begin commercial production before the end of the year.
Capable of generating electricity for 20,000 households, the project, if successful, could pave the way for much larger floating wind farms in the future and offer a means with which to replace conventional fossil-fuel based power plants with renewable energy on a much wider scale.
"This is an industry in its birth stage," said study co-author Ken Caldeira. "It really does look like the open-ocean environment can sustain a lot more power generation than on land."
"But making these technologies cheap enough to compete will be challenging."
Source: Seeker.com | Comments (23)
Tags: Wind Farms