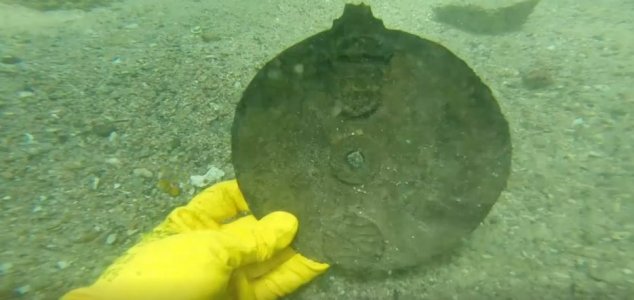 The astrolabe was found buried in sand on the ocean floor.

Image Credit: Twitter / David Mearns
Marine archaeologists have discovered the earliest known example of an astrolabe navigation tool.
Once used by ancient mariners to determine the position of the Sun, the artefact was found in a shipwreck off the coast of Oman and dates back to between 1495 and 1500.
The vessel itself, the Esmeralda, had been part of a fleet led by Portuguese explorer Vasco da Gama - the first person to sail directly from Europe to India - before it sank during a storm in 1503.
The astrolabe was a disc-shaped object with a hole in the center and notches situated around its edge. It aided navigation by measuring the height of the Sun above the horizon.
"It's a great privilege to find something so rare, something so historically important, something that will be studied by the archaeological community and fills in a gap," said excavation leader David Mearns.
"It was like nothing else we had seen and I immediately knew it was something very important because you could see it had these two emblems on it."
To date, only 108 of these ancient navigational tools have ever been found.
Source: BBC News | Comments (2)
Tags: Astrolabe