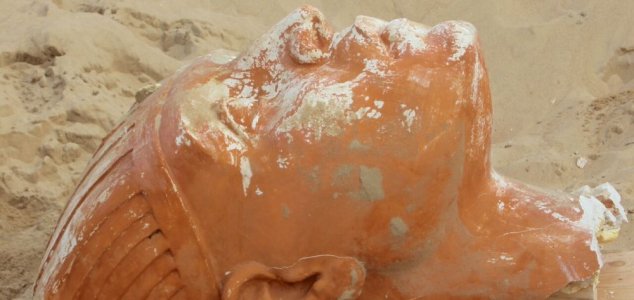 The prop is made of plaster of Paris.

Image Credit: The Guadalupe-Nipomo Dunes Center
Archaeologists discovered the artifact in Santa Barbara County, however all is not quite as it seems.
Far from being a relic built by the ancient Egyptians, the 300-pound sphinx head is actually something a little more recent - a prop from the pioneering 1923 movie
The Ten Commandments
.
In an effort to mimic Egypt's sandy landscape, part of the Hollywood blockbuster was shot in the Guadalupe-Nipomo Dunes on an enormous set measuring 800ft across and 12 stories high.
Featuring a huge gate, pharaoh statues and 21 sphinxes, the set required the skills of 1,300 craftsmen and used 25,000 pounds of nails and 250 tons of plaster of Paris.
Once filming had concluded, director Cecil B. DeMille demanded that the entire thing be buried in the sand. The exact reason for this remains unclear, however it is believed that he had either wanted to prevent other directors using it or had run out of money and couldn't afford to dismantle it.
Fast-forward almost 100 years and now, for the first time, archaeologists have managed to unearth one of the original intact sphinx heads from the site of the movie set.
"Movie sets just don't exist anymore from that Golden Age of Hollywood," said Doug Jenzen, executive director of the Dunes Center.
"This represents an opportunity to save a piece of American history before it's destroyed."
Source: Smithsonian Magazine | Comments (2)
Tags: Sphinx