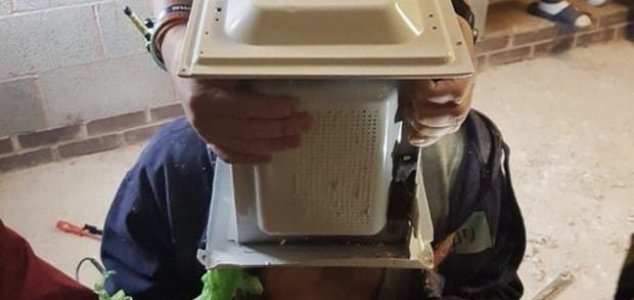 For obvious reasons, don't try this at home.

Image Credit: West Midlands Fire Service
A YouTube prankster had to be rescued by the fire service after his latest stunt went spectacularly wrong.
The 22-year-old, who had managed to cement his own head inside the kitchen appliance, found himself hopelessly trapped for over 90 minutes as his friends struggled to free him.
It wasn't until the emergency services were called out that he was finally rescued.
"He and a group of friends had mixed seven bags of Polyfilla which they then poured around his head, which was protected by a plastic bag inside the microwave," said Watch Commander Shaun Dakin.
"The oven was being used as a mould and wasn't plugged in. The mixture quickly set hard and, by the time we were called, they'd already been trying to free him for an hour and a half."
"All of the group involved were very apologetic, but this was clearly a call-out which might have prevented us from helping someone else in genuine, accidental need."
Source: smh.com.au | Comments (36)
Tags: YouTube, Prank