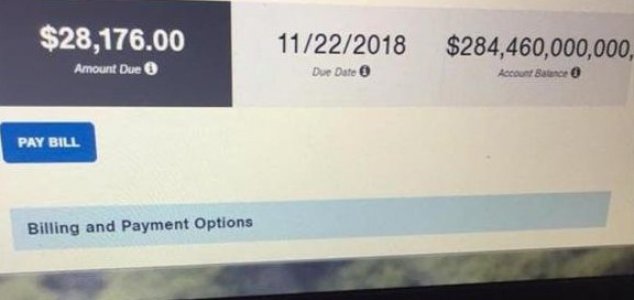 It remains unclear exactly how the error occurred.

Image Credit: Facebook / Mary Horomanski
Pennsylvania resident Mary Horomanski couldn't believe what she was reading when she received the bill.
While it is not unusual to receive an electricity bill that is a few dollars higher than expected, being asked to pay up hundreds of billions for a few months' worth of power is more than a little absurd.
Horomanski, who lives in Erie, received a bill for a ridiculous $284,460,000,000 ( $284 billion ) with an initial payment of $28,176 being due for payment by the end of December.
Fortunately a call to her electricity provider soon revealed that the actual bill due was a mere $284.
"I can't recall ever seeing a bill for billions of dollars," said company spokesman Mark Durbin. "We appreciate the customer's willingness to reach out to us about the mistake."
Source: BBC News | Comments (8)
Similar stories based on this topic:
Tags: Electricity, Bill