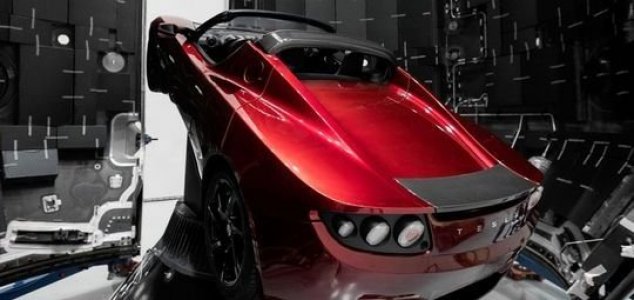 Yes, this car really is going to be sent up in to space.

Image Credit: SpaceX / Elon Musk
The SpaceX CEO has posted up images of his Tesla Roadster mounted inside the rocket's nose cone.
When Musk announced recently that the first ever launch of the SpaceX Falcon Heavy rocket would be carrying his own car up in to space, it was difficult to tell whether or not he was actually serious.
Based on these latest photographs however, we can assume that he wasn't joking around.
"Test flights of new rockets usually contain mass simulators in the form of concrete or steel blocks," he wrote on Instagram this week. "That seemed extremely boring. ... We decided to send something unusual, something that made us feel."
If everything goes to plan, the midnight cherry Tesla Roadster will be placed 'on a billion year elliptic Mars orbit', meaning that it will be on an orbital path around the Sun that will take it close to Mars.
"This is a low-energy orbit; that is, it takes the least amount of energy to put something in this orbit from Earth," said astronomer Phil Plait. "That makes sense for a first flight."
The launch is due to take place sometime next month.
"Will be in deep space for a billion years or so if it doesn't blow up on ascent," said Musk.
"Guaranteed to be exciting, one way or another."
Source: USA Today | Comments (36)
Tags: SpaceX, Falcon Heavy