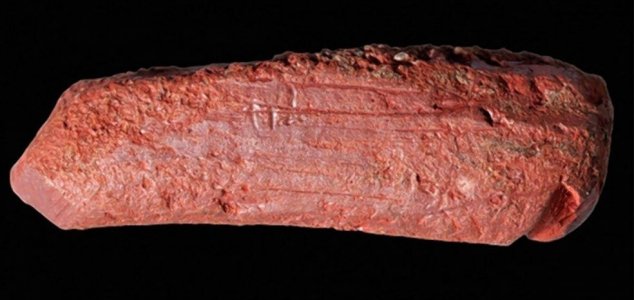 The crayon doesn't look much like today's crayons.

Image Credit: Paul Shields / University of York
Archaeologists have discovered a red crayon that would have once been used to color animal skins.
The crayon, which is made of a red mineral pigment called ochre, was found at Star Carr - an important Mesolithic archaeological site situated near Scarborough, North Yorkshire.
A second ochre pebble was also found at a separate site in the same area.
"The deep grooves lacking any apparent artistic design on the pebble suggest it was used to harvest red pigment powder," wrote study lead author Dr Andy Needham from the University of York.
"The sharp edges with striations in multiple directions might indicate the elongate shaped piece was used as a drawing and coloring tool, perhaps in a similar way to a contemporary pencil or crayon."
Prehistoric hunter-gatherers across the world are known to have collected ochre for various artistic purposes during the Middle Stone Age.
"I was really amazed by how small and delicate the piece is," said Dr Needham.
"Imagine the odds of recovering an object this small and delicate after it has been buried in the ground for around 10,000 years ?"
Source: Phys.org | Comments (7)
Tags: Crayon