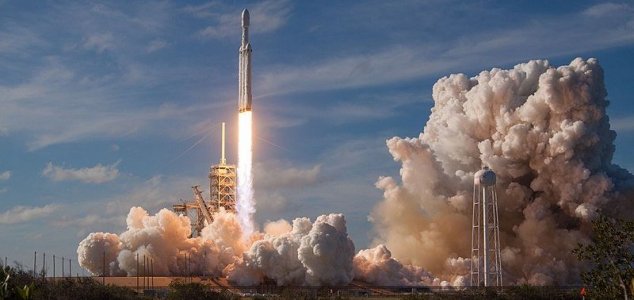 The Falcon Heavy launch was a major success for SpaceX.

Image Credit: SpaceX
Elon Musk's Tesla Roadster is set to venture even further away from home than anyone had expected.
The air was filled with cheers on Tuesday as the world's most powerful rocket - the Falcon Heavy - soared in to the sky above Cape Canaveral for the first time.
The destination of its unusual payload was to be a heliocentric orbit roughly the same distance from the Sun as Mars, but now it seems as though the Falcon Heavy's boosters burned a little too long, pushing the car in to a wider orbit that will instead take it through the asteroid belt.
While the $100,000 Tesla is likely to remain in one piece for the foreseeable future, once it reaches the belt there will be a much greater risk of a collision.
Eventually, the radiation of space will also take its toll.
"All of the organics will be subjected to degradation by the various types of radiation that you will run into there," said William Carroll, professor of chemistry at Indiana University.
"As the bonds break, the car can literally fall apart."
Source: The Guardian | Comments (91)
Tags: SpaceX, Falcon Heavy