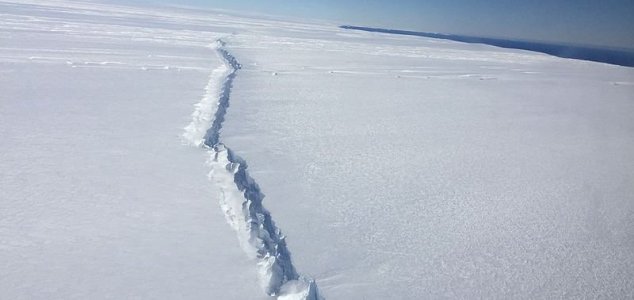 The iceberg split from the Larsen C Ice Shelf.

Image Credit: NASA ICE
A new expedition is set to investigate an unexplored ecosystem hidden beneath a huge Antarctic iceberg.
Led by the British Antarctic Survey (BAS), the team will leave the Falklands next week to explore a previously uncharted region of the sea floor that has until recently been hidden beneath an iceberg.
The huge chunk of ice, which has been dubbed A68, broke off from the Larsen C Ice Shelf in July.
The expedition is considered particularly urgent because the area will see rapid change after being exposed to sunlight for the first time in up to 120,000 years.
"The calving of A68 provides us with a unique opportunity to study marine life as it responds to dramatic environmental change," said marine biologist and expedition leader Dr Katrin Linse.
"It's important we get there quickly before the undersea environment changes as sunlight enters the water and new species begin to colonise. We've put together a team with a wide range of scientific skills so that we can collect as much information as possible in a short time. It's very exciting."
The team will use underwater cameras and other specialized equipment to photograph what lies on the sea floor and to collect samples of the animals, microbes and plankton that live there.
"Now is the time to address fundamental questions about the sustainability of polar continental shelves under climate change," said Professor David Vaughan. "We need to be bold on this one."
Source: Sky News | Comments (7)
Tags: Antarctica, Iceberg