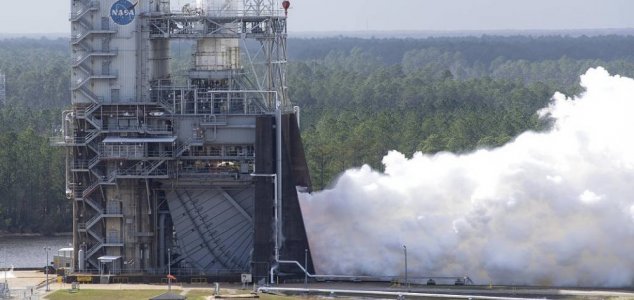 The test fire sent steam billowing out over a significant distance.

Image Credit: NASA
New footage has been released showing the Space Launch System engine reaching 113 percent thrust level.
The enormously powerful rocket engine, which could one day send humans to the Moon or even Mars, was test-fired again last week at the Stennis Space Center in Mississippi.
The impressive spectacle saw huge clouds of steam billow out across the test range.
"Four RS-25 engines will help power SLS at launch, supplying a combined 2 million pounds of thrust and working in conjunction with a pair of solid rocket boosters to provide more than 8 million pounds of thrust," NASA wrote.
"RS-25 engines are former space shuttle main engines, which were designed more than 40 years ago to provide a specific power level, categorized as 100 percent thrust. Through the years, the engines were modified to provide additional thrust to 109 percent of its original designated level."
"For the larger, heavier SLS rocket, the engines are being modified again to operate at 111 percent of their original power level. Increased engine performance is crucial for enabling SLS missions to deep space as the rocket evolves to be larger and carry astronauts and heavy cargo on a single flight."
During this particular test, the rocket engine even managed to hit 113 percent thrust for a short time.
Source: Tech Times | Comments (5)
Tags: SLS, NASA