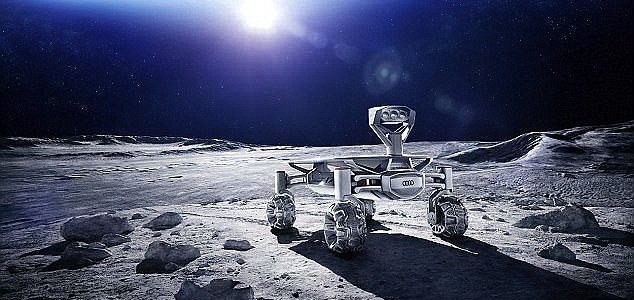 An artist's impression of Audi's proposed Moon rover design.

Image Credit: Audi
The network, which is being set up by Vodafone and Nokia, will enable HD live-streaming from lunar rovers.
It might not seem like the most obvious place to set up a mobile network, especially given that there are still places on Earth that don't have access to high-speed mobile Internet.
According to mobile giants Vodafone and Nokia however, the move is an important step towards making future visits to the Moon commercially viable.
The space-based network will use hardware no heavier than a bag of sugar and the first launch, which will use a SpaceX Falcon 9 rocket, has been scheduled to take place in 2019.
"This project involves a radically innovative approach to the development of mobile network infrastructure," said Vodafone Germany Chief Executive Hannes Ametsreiter.
In addition to live-streaming, the new lunar network will also make it easier for future rovers to communicate both with one another and with their operators back on Earth.
The first mission to use the new network, which is being developed by automotive giant Audi, will see a lander and two rovers visit the site of NASA's historic Apollo 17 lunar roving vehicle.
The base station will be called the Autonomous Landing and Navigation Module (ALINA).
Source: Reuters | Comments (3)
Tags: Moon, Mobile