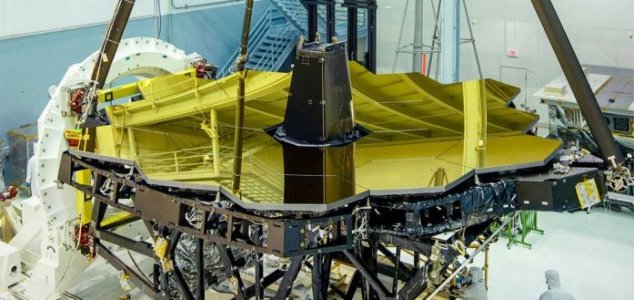 The James Webb Space Telescope will offer an unprecedented view of the cosmos.

Image Credit: NASA
The upcoming launch of the ground-breaking new space telescope has now been pushed back to 2020.
The result of a long-running international collaboration between NASA, ESA and the Canadian Space Agency, the James Webb Space Telescope will provide scientists with an unprecedented view of the cosmos thanks to a resolution and sensitivity that is unrivalled by anything that has come before.
Its primary goals will be to image some of the first stars and galaxies to have formed after the Big Bang, to study the formation and evolution of galaxies, to better understand the formation of stars and planets and to study the origins of life in the universe.
It should even be able to provide clearer direct imaging of planets in orbit around distant stars
Sadly though, despite its launch already being pushed back from October 2018 to Spring 2019, the next-generation telescope has been delayed yet again until May 2020 at the earliest.
NASA maintains that the reason for the delay is to provide additional time for testing.
"Webb is the highest priority project for the agency's Science Mission Directorate, and the largest international space science project in US history," said acting NASA Administrator Robert Lightfoot.
"All the observatory's flight hardware is now complete, however, the issues brought to light with the spacecraft element are prompting us to take the necessary steps to refocus our efforts on the completion of this ambitious and complex observatory."
Given the amount of time, money and effort that has already been spent building the James Webb Space Telescope, NASA's careful approach to the launch is undoubtedly a good thing.
Source: Extreme Tech | Comments (10)
Tags: James Webb Space Telescope