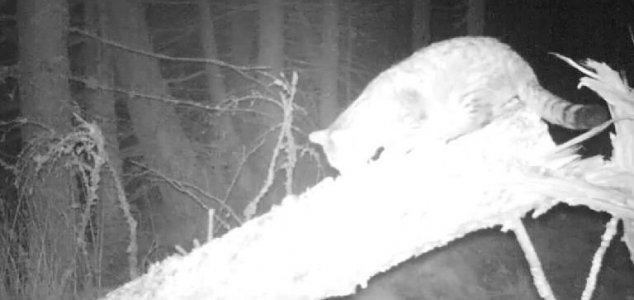 Wildcats are mostly nocturnal.

Image Credit: YouTube / Wildcat Haven / Kev Bell
One of the largest wildcats ever seen anywhere in the world has been caught on camera in Aberdeenshire.
Dubbed the 'Clashindarroch Beast' after the forest in which it was spotted, the feline, which measures 4ft long, was captured on film as part of an ongoing Scottish wildcat conservation project.
The species is particularly rare in the UK and is totally extinct in England and Wales. Only a small population continues to exist in the remote forests of Scotland, particularly in the Highlands.
The trail camera that recorded the footage had been set up to try and monitor their population.
"I've been fortunate to get footage of quite a few of these ghost cats; there's about 10 to 15 of them here in the Clashindarroch," said Wildcat Haven field worker Kev Bell.
"I couldn't believe my eyes when I first saw this cat, he is enormous, a magnificent animal."
Source: BBC News | Comments (34)
Tags: Wildcat, Scotland