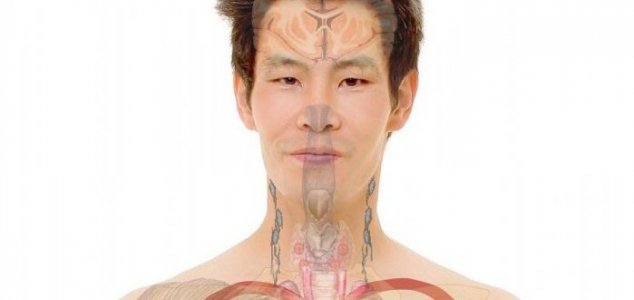 The interstitium can be found throughout the body.

Image Credit: PD - Mikael Haggstrom
The accidental find highlights just how much there is still left to learn about the workings of the human body.
The new organ, which has been christened the interstitium, was discovered quite by accident by researchers who had been conducting routine endoscopies - a procedure that involves sending a small camera down a patient's throat to examine the digestive tract.
After examining the bile ducts of several patients using a newer laser-based endoscopy procedure, the scientists discovered a strange mesh-like network of fluid-filled tissue.
Further tests revealed that the interstitium can actually be found throughout the body.
The reason it hadn't been noticed before is because when tissue samples are normally collected, the fluid-filled pockets collapse, creating the illusion of completely solid tissue.
Scientists believe that the interstitium acts as a shock absorber for our internal organs and also serves as an internal highway to carry cells - especially white blood cells - around the body.
"This fixation artifact of collapse has made a fluid-filled tissue type throughout the body appear solid in biopsy slides for decades, and our results correct for this to expand the anatomy of most tissues," said study co-author Neil Theise of New York University's Department of Pathology.
"This finding has potential to drive dramatic advances in medicine, including the possibility that the direct sampling of interstitial fluid may become a powerful diagnostic tool."
Source: Gizmodo | Comments (4)
Tags: Human, Organ, Interstitium