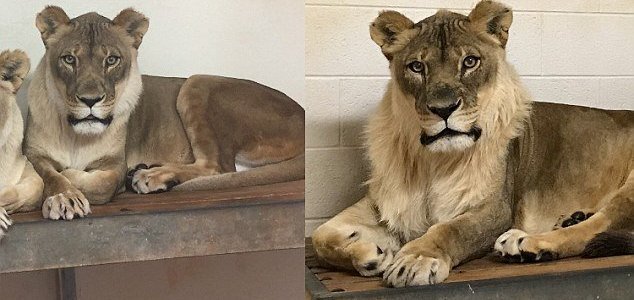 The mystery of the mane has finally been solved.

Image Credit: Facebook / Oklahoma City Zoo
Researchers have finally determined why a zoo lioness has mysteriously sprouted mane-like head and neck hair.
The lioness in question, an 18-year-old named Bridget, is a resident of Oklahoma City Zoo. Her caretakers had started to notice the new hair growth at the end of last year.
News of her peculiar condition hit the Internet last month, leading to a flurry of interest from veterinary experts who were keen to examine her in an effort to get to the bottom of the mystery.
Now following a laboratory analysis of Bridget's blood, researchers at the University of Tennessee have discovered elevated levels of androstenedione - a hormone that can contribute to the development of male features.
A higher level of cortisol, which regulates metabolism and the immune system, was also found.
Experts believe that a benign tumor is likely to be primarily responsible for producing the hormones.
Fortunately though, despite her condition, Bridget appears to be in excellent health.
Source: 9news.com.au | Comments (18)
Tags: Lion