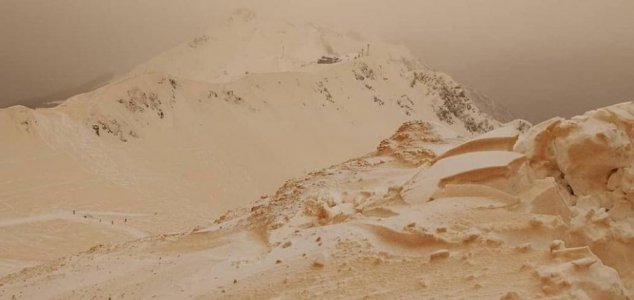 The orange snow fell over a large area.

Image Credit: Instagram / Margarita_Alshina
Ski resorts in several countries were left looking like the surface of Mars after a recent fall of orange-tinged snow.
Holidaymakers in Ukraine, Russia, Bulgaria and Romania took to social media in their droves this week to post photographs of the peculiar otherworldly landscape.
According to experts, the orange snow occurs around once every five years when sand, dust and pollen are stirred up during storms in northern Africa and swept over long distances.
"As the sand gets lifted to the upper levels of the atmosphere, it gets distributed elsewhere," said Steven Keates, a weather forecaster at the UK's Met Office.
"Looking at satellite imagery from NASA, it shows a lot of sand and dust in the atmosphere drifting across the Mediterranean."
Source: The Guardian | Comments (5)
Tags: Orange Snow, Sahara