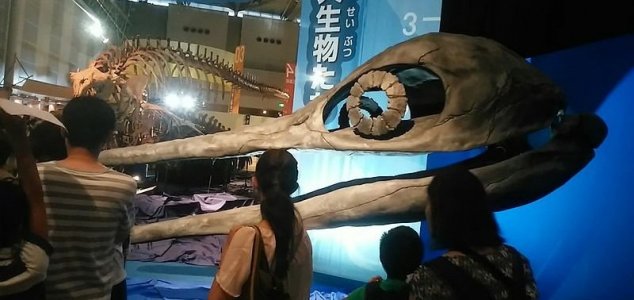 Skull of Shonisaurus - another large ichthyosaur.

Image Credit: CC BY-SA 4.0 Machairo
Scientists have found the fossil remains of an ichthyosaur that was almost the size of a blue whale.
The blue whale's status as the largest creature to have ever lived on planet Earth may be in jeopardy following the discovery of a truly enormous species of prehistoric ichthyosaur.
These dolphin-like marine reptiles, which lived alongside the dinosaurs, first appeared around 250 million years ago and survived up until around 90 million years ago.
While some ichthyosaurs were known to have reached significant sizes, this newly discovered species, which was unearthed in southwestern England, is the largest yet.
Measuring a whopping 85ft in length, it was a true monster of the prehistoric seas.
Its discovery could also indicate the possible existence of other, even larger ichthyosaurs.
"As soon as I saw it in person, my jaw just hit the floor," said marine reptile experts Dean Lomax. "I realized this was a giant ichthyosaur and the biggest thing ever found in the UK."
Source: National Geographic | Comments (11)
Similar stories based on this topic:
Tags: Ichthyosaur