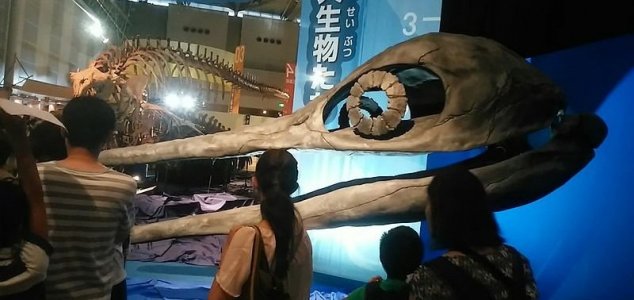 Ichthyosaur's could eat creatures larger than humans.

Image Credit: CC BY-SA 4.0 Machairo
Palaeontologists have discovered one large prehistoric fossil reptile inside the belly of another, larger predator.
Ichthyosaurs, which looked very similar to today's dolphins despite having no relation to them, would have been a common sight in the prehistoric seas between 250 million and 90 million years ago.
While many Ichthyosaurs were thought to have dined on small marine creatures, scientists have now identified a fossil specimen that happened to have swallowed an entire four-meter-long marine reptile for its dinner sometime during the Middle Triassic period between 237 and 247 million years ago.
The unfortunate creature - a thalattosaur - is one of the largest fossils ever found inside the stomach of a prehistoric marine reptile and offers a unique glimpse into what Ichthyosaurs would have eaten.
Experts believe that the predator likely died shortly after ingesting the animal, which may also be why it is so well preserved inside of its stomach.
"If you look across all the similar marine reptiles that lived in the age of dinosaurs, we've actually never found something articulated like this in the stomach," said study co-author Ryosuke Motani.
"At first, we just didn't believe it, but after spending several years visiting the dig site and looking at the same specimens, we finally were able to swallow what we were seeing."
Source: CBS News | Comments (2)
Similar stories based on this topic:
Tags: Ichthyosaur