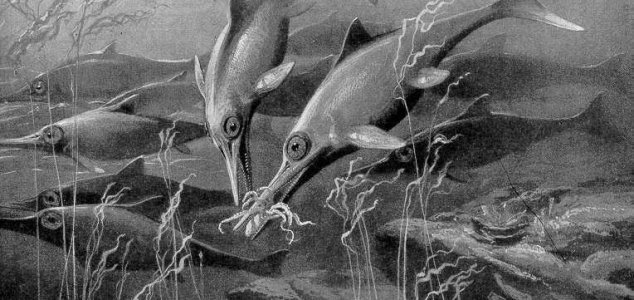 Ichthyosaurs thrived in the ocean for around 160 million years.

Image Credit: Heinrich Harder
The 180 million-year-old specimen was originally discovered at Holzmaden quarry in Germany.
Ichthyosaurs, which looked very similar to today's dolphins despite having no relation to them, would have been a common sight in the prehistoric seas between 250 million and 90 million years ago.
Now scientists studying a well-preserved specimen held at Urweltmuseum Hauff in Germany have discovered what appears to be traces of skin and blubber - something rarely seen in fossils.
The find has revealed that these prehistoric marine reptiles were warm-blooded and had smooth skin - just like today's dolphins and whales - rather than cold-blooded and scaly like most reptiles.
They also had darker coloration on their underside, most likely to make them harder to spot.
"Ichthyosaurs are interesting because they have many traits in common with dolphins, but are not at all closely related to those sea-dwelling mammals," said study co-author Prof. Mary Schweitzer.
"This is the first direct, chemical evidence for warm-bloodedness in an ichthyosaur, because blubber is a feature of warm-blooded animals."
Source: BBC News | Comments (8)
Similar stories based on this topic:
Tags: Ichthyosaur