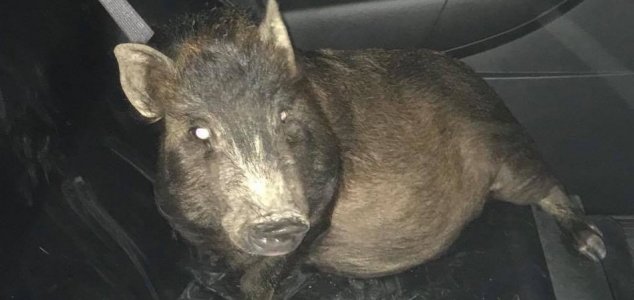 The pig spent a night in the dog kennels.

Image Credit: Facebook / North Ridgeville Police Department
Police in Ohio were shocked to discover that a call about a pig following a man home was actually genuine.
When officers first received a call from a man complaining that he was being stalked by a pig in the early hours of Saturday morning, they initially dismissed it as the ramblings of a drunk.
Upon turning up at the scene however, they discovered a perfectly sober man who really was being pursued by an inquisitive swine that seemed intent on following him all the way to his house.
The man told the officers that he was concerned about the situation and didn't know what to do.
In the end, an officer succeeded in 'wrangling' the pig in to the back of his police car before taking it back to the station for a night in the cells ( or the dog kennels to be more precise ).
"We will mention the irony of the pig in a police car now so that anyone that thinks they're funny is actually unoriginal and trying too hard," the department quipped on its Facebook page.
Source: BBC News | Comments (21)
Tags: Police, Pig