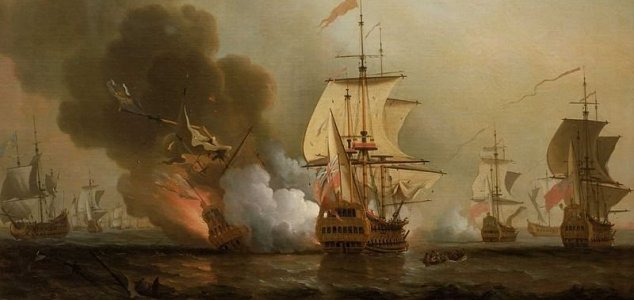 The San Jose was sunk by British ships.

Image Credit: Samuel Scot / National Maritime Museum
The long-lost 300-year-old Spanish galleon was found with the help of an autonomous underwater vehicle.
Discovered in 2015 off the coast of Colombia by the Woods Hole Oceanographic Institution, the wreck had been kept under wraps for the last three years out of respect for the Colombian government.
Known as the San Jose, the 62-gun galleon went down on June 8, 1708 along with 600 members of its crew while engaged in a battle with the British during the War of Spanish Succession.
Incredibly, the wreck is thought to contain a treasure trove which today is worth over $17 billion.
Now new information has been released indicating that the ship, which lies 2,000ft beneath the ocean's surface, was found using an autonomous underwater vehicle known as REMUS 6000.
"The wreck was partially sediment-covered, but with the camera images from the lower altitude missions, we were able to see new details in the wreckage and the resolution was good enough to make out the decorative carving on the cannons," said expedition leader Mike Purcell.
It remains unclear who will end up with the vessel's vast riches however there have already been several tense legal battles over the matter and the precise location of the vessel is still a secret.
UNESCO has since called on Colombia not to exploit the wreck for commercial purposes.
Source: Fox News | Comments (24)
Tags: San Jose, Galleon