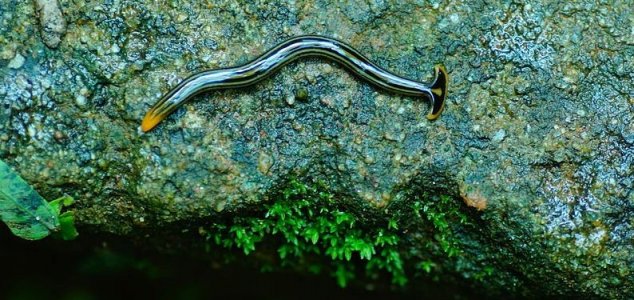 Several species of predatory flatworm have set up home in France.

Image Credit: CC BY-SA 3.0 Vengolis
Scientists have warned that huge worms up to 40cm long have been silently invading French gardens.
The exotic predatory invertebrates, which have managed to go almost completely undetected for years, are thought to have originated from populations transported from Asia in tropical plants.
One of the earliest pieces of evidence was a photograph of a flatworm taken by naturalist Pierre Gros.
"This photograph was sent from email to email to email and finally it came to me," said zoologist Professor Jean-Lou Justine from the French National Museum of Natural History.
"I looked at it and said 'Well, this is not possible - we don't have this kind of animal in France'."
Initially dismissing the image as a prank, he was startled to receive photographs of several other flatworm species all discovered within the same small garden.
"What we know now is that there are invasive flatworms almost everywhere in metropolitan France," he said. "I am still amazed - I don't understand how this is possible in a developed country."
Source: Independent | Comments (15)
Tags: France, Worms