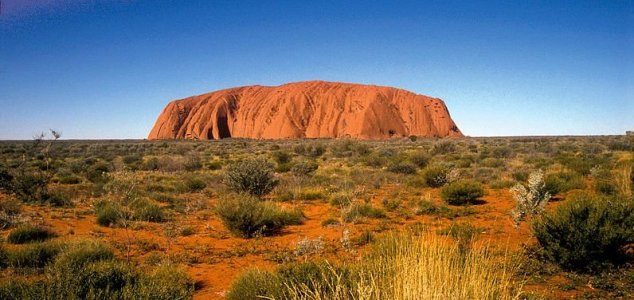 Is there really a curse of Uluru ?

Image Credit: CC BY-SA 3.0 CSIRO
A man who took home a piece of Australia's famous Ayers Rock believes that he has fallen under its curse.
When Steve Hill visited the landmark during a solo trip to Australia's spiritual heartland last year, he didn't think anything of picking up a small chunk of it to take home as a souvenir.
"While walking around the base of Uluru (Ayers Rock), I saw this rock and just had to have it," he said. "Google maps indicated I was at the old campground where Azaria Chamberlain went missing, so I thought I'd take a small rock as memorabilia, you know, to put on the mantelpiece back at home."
Before long however, he started to experience a spate of unfortunate incidents that would lead him to believe that stories of a curse befalling anyone who disturbs Uluru might actually be true.
Things started to go awry even during his return trip. On one otherwise unremarkable stretch of road, kangaroos started inexplicably hurling themselves at his vehicle, as if deliberately.
"I've driven extensively through the outback and never seen such behavior from kangaroos," he said. "It was at that point I started to think maybe I shouldn't have taken the rock and that maybe I'd fallen victim to the curse."
A couple of months later, his engine failed and mechanics struggled to figure out what was wrong.
Even during his day-to-day activities Hill reported feeling nervous, and when all the photographs of his trip to the rock mysteriously disappeared off his phone, he decided that enough was enough.
"I've been planning a trip to Cape York for some time, but have decided to not only bring it forward to next month, but also make a 3000-kilometre detour via Uluru," he said.
"I'm going to return the rock; it's just something I've got to do. I know exactly where I took it from, so as soon as I get to Uluru, I'll be returning it."
Source: Canberra Times | Comments (61)
Similar stories based on this topic:
Tags: Curse, Ayers Rock, Uluru