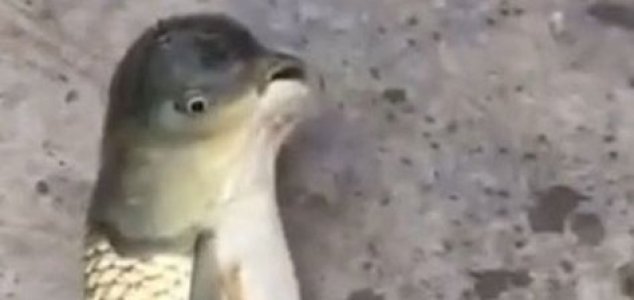 What the heck is this thing ?

Image Credit: YouTube / Mail Online / Newsflare / China.Live
A fish with a head resembling that of a bird has been caught in a river in China's Guizhou Province.
Recently released footage of the peculiar creature, which looks like an amalgamation of two different types of animals, went viral after it was uploaded on to Chinese social media platform Weibo.
Since then, thousands of Internet users have been attempting to figure out what it is.
According to fish expert Yang Xing from the Guizhou Fisheries Research Institute, the most likely explanation is that the creature is a carp with a prominent head deformity.
"One possibility is that the embryo was damaged when it was growing," he said.
"Another possibility is that the lack of oxygen in [the] water - due to over-crowded fishing farming - caused the fish's head to be deformed."
According to reports, the fish was later released back in to the river.
Source: Nine.com.au | Comments (23)
Tags: Bird, Fish, China