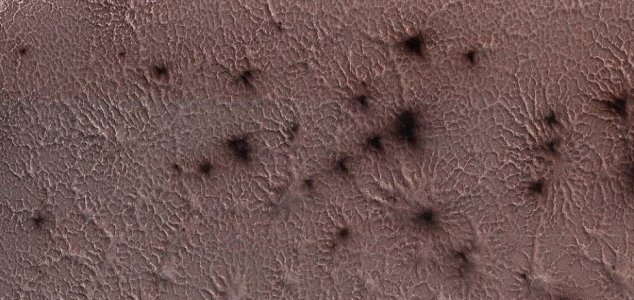 It's the 'Spiders' from Mars, but where's Ziggy Stardust ?

Image Credit: NASA/JPL-Caltech
Peculiar surface features that resemble large spiders can be seen in the latest image from NASA's Mars orbiter.
Revealed on Friday as part of the space agency's 'Image of the Day' series, the image shows a carbon ice cap that has formed over the Red Planet's southern polar region during the winter.
The black spider-like features on the surface are what scientists call 'araneiform terrain' and are created when carbon dioxide ice beneath the surface heats up and is released.
"There are radially organized channels on Mars that look spider-like, but we don't want to confuse anyone by talking about 'spiders' when we really mean 'channels,' not 'bugs,'" NASA wrote.
"Gas flows through these channels until it encounters a vent, where is escapes out to the atmosphere, carrying dust along with it. The dark dust is blown around by the prevailing wind."
The image was taken by NASA's Mars Reconnaissance Orbiter (MRO) which launched back in 2005.
A higher resolution version can be viewed -
here
.
Source: Tech Times | Comments (7)
Similar stories based on this topic:
Tags: Mars