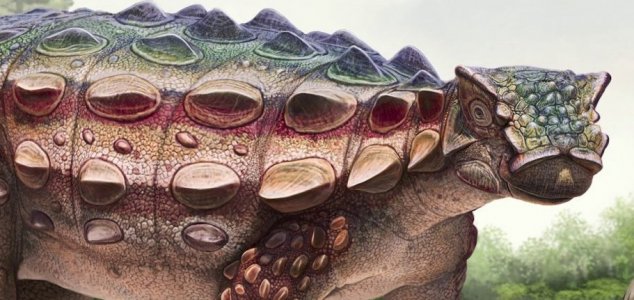 The dinosaur was well armored.

Image Credit: YouTube / Natural History Museum of Utah
With its armored plating and bony protrusions, this impressive dinosaur was well protected from predators.
Measuring around 16ft long and up to 42 inches tall, the species belonged to a group of dinosaurs known as ankylosaurs which were categorized by having thick armor plating across their bodies.
They first emerged around 125 million years ago before being wiped out along with the other dinosaurs by the cataclysmic extinction event at the end of the Cretaceous.
The new species, which has been dubbed
Akainacephalus johnsoni
, is particularly unusual as, despite being found in Utah, it has skull ridges more akin to Asian than North American ankylosaurid fossils.
"A reasonable hypothesis would be that ankylosaurids from Utah are related to those found elsewhere in western North America, so we were really surprised to discover that Akainacephalus was so closely related to species from Asia," said study co-author Dr Randall Irmis.
Source: Sky News | Comments (2)
Tags: Dinosaur, Ankylosauridae