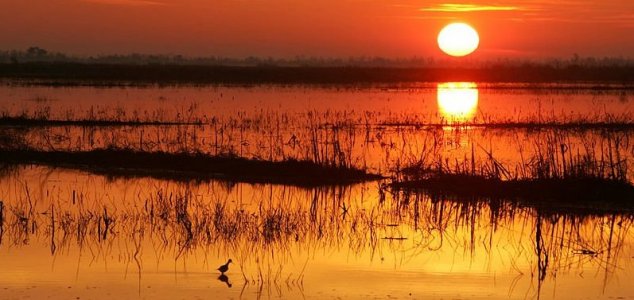 Earth could get much, much hotter if we don't act.

Image Credit: CC BY 2.0 USFWS / Steve Hillebrand
A runaway global warming effect may still occur even if countries do manage to slash CO2 emissions.
The troubling news comes courtesy of a new study by an international team of climate researchers who warn that mankind's impact on global temperatures could turn Earth's natural forces against us.
Right now, 4.5 billion tonnes of carbon that would otherwise end up in the atmosphere are absorbed by the Earth's rainforests, oceans and land each year, protecting us from runaway global warming.
Once global temperatures reach two degrees above pre-industrial levels however, these protective mechanisms may turn in to a source of carbon - releasing huge quantities in to the atmosphere and further raising temperatures to levels not seen on Earth in 1.2 million years.
The resulting sea-level rise could render most of the planet's coastal regions uninhabitable.
Our only chance to avoid this outcome will be to significantly reduce carbon emissions - far further than the currently stated targets - to avoid kick-starting this process in the first place.
"What we are saying is that when we reach 2 degrees of warming, we may be at a point where we hand over the control mechanism to Planet Earth herself," said co-author Prof Johan Rockstrom.
"We are the ones in control right now, but once we go past 2 degrees, we see that the Earth system tips over from being a friend to a foe. We totally hand over our fate to an Earth system that starts rolling out of equilibrium."
Source: BBC News | Comments (89)
Tags: Global Warming.Temperature, Climate