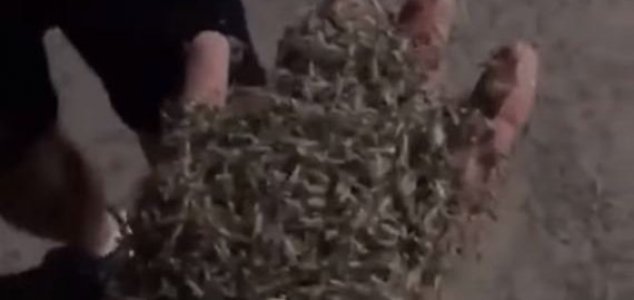 Fortunately the insects do not bite.

Image Credit: YouTube / Rostov-on-Dan
Residents of the Russian city of Taganrog have been inundated with huge swarms of winged insects this week.
A recently released video, which shows a local man's hand crawling with hundreds of mosquitoes as thousands more swarm over the road nearby, has received more than 170,000 views in just two days.
Situated 40 miles from the Ukrainian border, the city has become so infested with the insects that they have formed a slippery layer on the streets, causing cars to skid and pedestrians to fall over.
Known as chironomids, the insects are thought to be breeding in small lakes in the nearby countryside.
On the plus side, these particular mosquitoes are actually completely harmless to humans and typically only live for around five days before dying off.
It might be best to avoid visiting the city until that happens, however.
Source: Sputnik International | Comments (3)
Tags: Mosquitoes, Taganrog