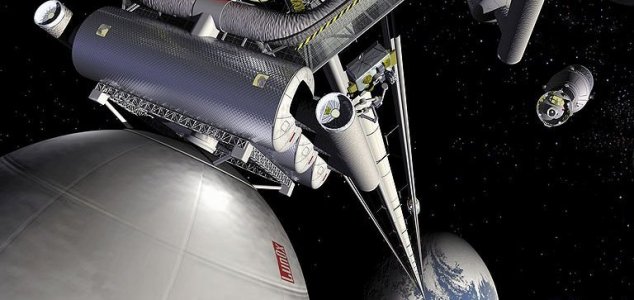 Is it possible to build an elevator in to space ?

Image Credit: NASA
Scientists in Japan are aiming to one day build an elevator that can carry people and cargo in to orbit.
The idea of building a space elevator to bypass the need for expensive rocket launches is something that has been mulled over by scientists and engineers for years.
While the idea itself certainly has merit, finding a material capable of sustaining such an enormous structure has long proven to be a problem - as has developing a way to construct something that would ultimately need to be tens of thousands of miles high.
Now in a renewed bid to turn this idea into reality, scientists at Japan's Shizuoka University have been working with the Japan Aerospace Exploration Agency to launch a trial mission that will see a miniature payload being transported between two cubesats.
This small-scale demonstration of a space elevator concept, which will go ahead next week, will involve a cable only ten meters long and an 'elevator' a mere 6 centimeters long.
If the test works however it will show that the idea of a space elevator really does have potential.
"It's going to be the world's first experiment to test elevator movement in space," said a spokesman.
Source: Popular Mechanics | Comments (18)
Tags: Space Elevator, Japan