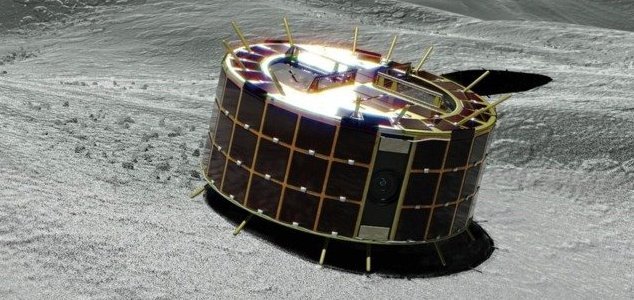 The two rovers will hop around on the asteroid's surface.

Image Credit: JAXA
Japan's space agency JAXA has succeeded in landing two tiny hopping robots on the asteroid Ryugu.
The two mobile rovers - the first ever to land on the surface of an asteroid - were deployed on Friday from the main Hayabusa2 spacecraft which arrived in orbit around the asteroid back in June.
Part of the Japanese Space Agency's MINERVA-II1 program, the plucky little rovers have been designed to hop around on the asteroid's surface while snapping pictures and recording data.
"We are sorry we have kept you waiting!" JAXA wrote earlier today. "MINERVA-II1 consists of two rovers, 1a and 1b. Both rovers are confirmed to have landed on the surface of Ryugu. They are in good condition and have transmitted photos and data."
"We also confirmed they are moving on the surface."
Even with the success of the two rovers, the mission is far from over. Next month, another, much larger rover called MASCOT will be deployed, followed by another hopping robot next year.
The asteroid itself is situated approximately 186 million miles away and is around 1km in diameter.
The mission's ultimate goal will be to retrieve a sample of rock and return it to Earth for study.
Source: Space.com | Comments (17)
Similar stories based on this topic:
Tags: Japan, JAXA, Ryugu, Asteroid