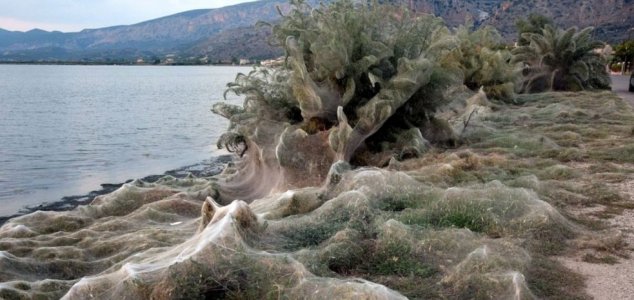 The webbing was created by thousands of spiders.

Image Credit: Facebook / Giannis Giannakopoulos
A vast stretch of vegetation next to Aitoliko Lagoon has become hidden beneath a huge mass of spider silk.
The disturbing scene, which looks like something straight out of a horror movie, was captured on camera recently by local photographer Giannis Giannakopoulos.
He described the spectacle as "strange and unprecedented."
According to experts, the arachnids, which number in the thousands, are of the genus Tetragnatha.
They are notorious for building huge webs during particularly humid conditions.
"It's as if the spiders are taking advantage of these conditions and are having a kind of a party," said Professor Maria Chatzaki from the Democritus University of Thrace in Komotini.
"They mate, they reproduce and provide a whole new generation. There are huge numbers of male and female spiders mating. The spiders will have their party and will soon die."
Source: Yahoo! News | Comments (5)
Similar stories based on this topic:
Tags: Greece, Spider