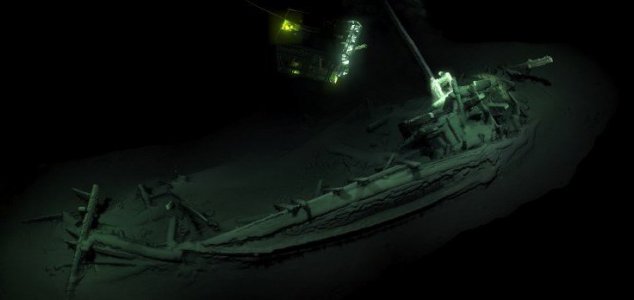 The shipwreck offers a unique glimpse in to the past.

Image Credit: Black Sea MAP / EEF Expeditions
The wreck of a wooden vessel dating back 2,400 years has been found at the bottom of the Black Sea.
Believed to be an ancient Greek trading vessel, the remarkably intact shipwreck was discovered by an international team of researchers from the Black Sea Maritime Archaeology Project (MAP).
It is so old in fact that vessels of this type had only previously been seen in ancient artwork.
"A ship surviving intact from the classical world, lying in over 2km of water, is something I would never have believed possible," said expedition principal investigator Professor Jon Adams.
"This will change our understanding of shipbuilding and seafaring in the ancient world."
The wreck is one of several dozen found in the region over the last few years.
It is thought that the environment of the Black Sea, which is unable to support the types of organisms that typically feed on wooden shipwrecks, has played a major role in the preservation of the vessels.
Source: The Guardian | Comments (10)
Tags: Black Sea, Shipwreck