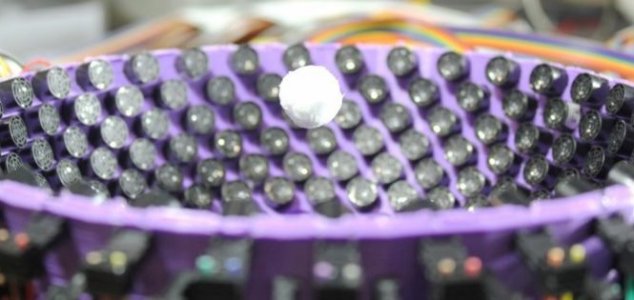 Objects can be levitated using 'tornadoes of sound'.

Image Credit: University of Bristol
An acoustic tractor beam could make it possible to levitate large objects within the not-too-distant future.
Although the technology needed to levitate an object using sound waves has existed for years, lifting anything but the smallest of items using sound waves alone has long proven notoriously difficult.
Now though, engineers from the University of Bristol have finally found a way to levitate objects using an acoustic tractor beam that is larger than the wavelengths of sound being used by the device.
"Acoustic researchers had been frustrated by the size limit for years, so it's satisfying to find a way to overcome it," said study lead author Asier Marzo. "I think it opens the door to many new applications."
Such applications could include the manufacture of fragile products without having to physically touch them or the manipulation of surgical devices within a patient's body during an operation.
Crucially, it is also likely that the technology can be scaled up significantly over time.
"In the future, with more acoustic power it will be possible to hold even larger objects," said senior research associate Mihai Caleap. "This was only thought to be possible using lower pitches making the experiment audible and dangerous for humans."
Source: CNET.com | Comments (7)
Tags: Levitate, Tractor Beam