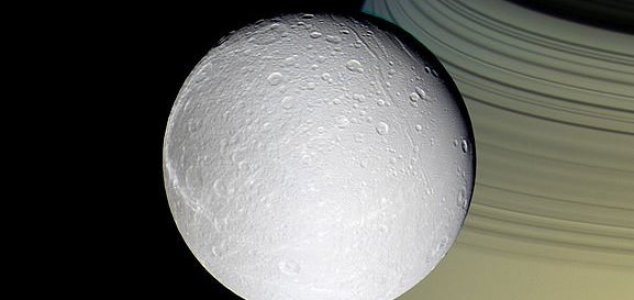 Dione is the fourth-largest moon of Saturn.

Image Credit: NASA / JPL
One of Saturn's moons has thrown up a new mystery in the form of oddly straight lines etched in to its surface.
Discovered in photographs taken by NASA's Cassini spacecraft, the peculiar lines, which have been dubbed
linear virgae
, stretch over distances of several hundred kilometers.
What is particularly strange about them is that they are very thin - less than five kilometers across - as well as relatively recent, given that they seem to appear on top of ridges and impact craters.
The lines run parallel to Dione's equator and only seem to show up at low altitudes.
One possibility is that material from Saturn's rings is selectively falling on to the moon's surface, however it is unclear exactly how and why this should happen.
The phenomenon has left study authors Emily Martin and Alex Patthoff scratching their heads.
"If we can find linear virgae elsewhere in the Saturn system, we might learn a little more about the sources for material that could drape across the surfaces of these moons," said Patthoff.
Source: Sky and Telescope | Comments (1)
Tags: Dione, Saturn