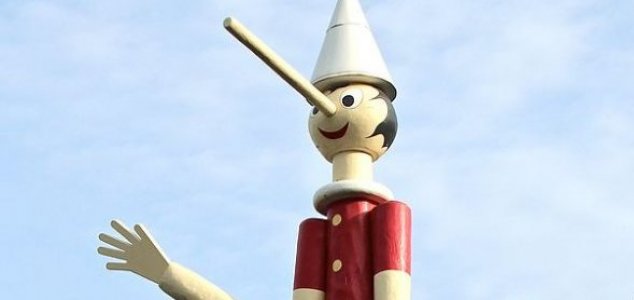 Your nose can give you away after all.

Image Credit: CC BY-SA 3.0 Adrian Michael
It turns out that Pinocchio was wrong - your nose doesn't grow when you lie, it actually gets colder and shrinks.
First depicted in the 19th-century novel by Italian writer Carlo Collodi and then later in the famous animated Disney movie, the character of Pinocchio has long been associated with the concept of telling lies because his nose would grow whenever he said something that wasn't true.
Now according to a new study by scientists at the University of Granada in Spain however, it turns out that, far from growing longer, your nose is more likely to shrink when you are lying to someone.
Using infrared cameras, the researchers were able to demonstrate that the temperature of a person's nose will go down when they are telling a lie - making falsehoods potentially easy to spot.
The reason for this is anxiety which manifests itself in the temperature of the nose.
"There is also a cognitive response, because to lie we have to think, plan our excuses, analyze the context," said researcher Emilio Gomez Milan. "This causes us a cognitive load or a strong demand for attentional control that results in an increase in the temperature of the forehead."
"To lie you have to think, and that's why the temperature of the forehead increases, but we also get nervous, something that causes a drop in the temperature of the nose."
A video (in Spanish) demonstrating the effect via infrared footage can be viewed below.
Source: Russia Today | Comments (5)
Tags: Pinocchio, Lie Detector