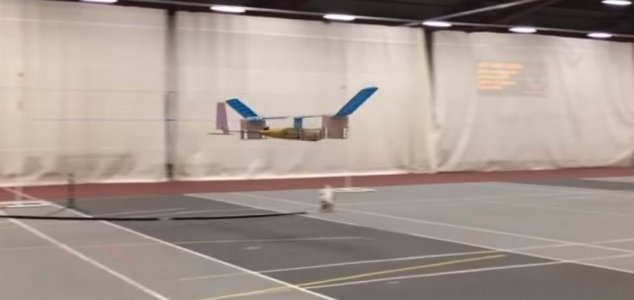 A still from footage of the test plane in flight.

Image Credit: MIT / YouTube / Nature Video
An aircraft with no moving parts has successfully flown a distance of 60 meters using 'ionic wind' technology.
The experimental model plane, which was developed by a team of researchers at the Massachusetts Institute of Technology, uses an electric field to generate charged nitrogen ions which are expelled from the back of the aircraft to produce thrust.
"I was a big fan of Star Trek, and at that point I thought that the future looked like it should be planes that fly silently, with no moving parts - and maybe have a blue glow," said lead study author Steven Barrett, an aeronautics professor at MIT.
"So I started looking into what physics might make flight with no moving parts possible."
In the future, ionic wind technology could be used to power aircraft that are much cleaner and quieter than those with conventional propulsion systems.
"It's clearly very early days: but the team at MIT have done something we never previously knew was possible in using accelerated ionised gas to propel an aircraft," said Professor Guy Gratton.
"Aeronautical engineers around the world are already trying hard to find ways to use electric propulsion, and this technology will offer something else that in the future may allow manned and unmanned aircraft to be more efficient, and non-polluting."
Source: The Guardian | Comments (6)
Tags: Ionic Wind, Plane