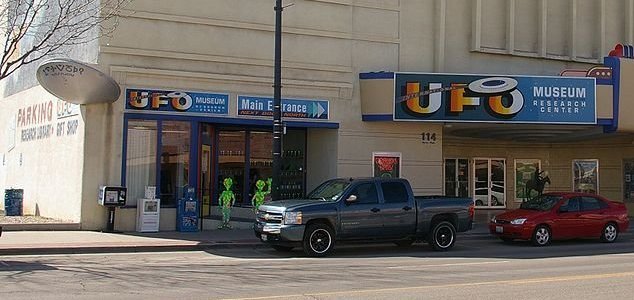 The International UFO Museum And Research Center is a popular attraction.

Image Credit: PD - J Dykstra
The home of what is arguably the best known UFO incident in history now has a new reminder of its legacy.
There are few events in UFO lore as hotly debated as the Roswell incident, an event that has been covered in countless books, documentaries, TV shows and movies over the last few decades.
The city of Roswell has been a popular destination for UFO tourists for almost as long, with the International UFO Museum And Research Center attracting thousands of visitors each year.
Residents were nonetheless taken completely by surprise on Tuesday morning when a giant 22ft statue of an extraterrestrial was installed outside of a Dunkin' Donuts on Main Street.
Made out of Styrofoam, the statue reportedly cost $35,000 to produce.
"We wanted to create a landmark, something that will stay here forever," said managing partner Murad Fazal. "We're just so excited to be doing this. This is one of a kind for Dunkin' Donuts."
The new store is due to soft open at the end of December.
Source: KRQE.com | Comments (13)
Tags: Roswell