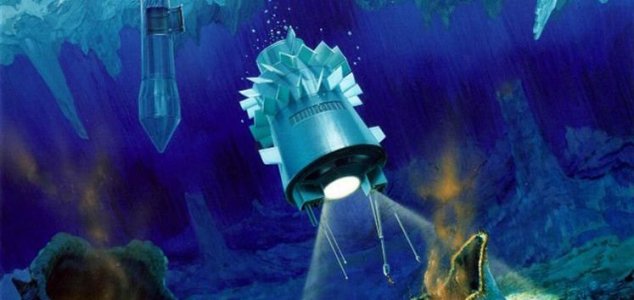 What lies beneath Europa's icy crust ?

Image Credit: NASA
NASA has proposed a new mission to delve deep beneath the icy crust of Jupiter's moon Europa.
When it comes to seeking out signs of extraterrestrial life within our own solar system, no target has proven more tantalizing than Europa - a world thought to be home to a potentially habitable ocean of liquid water hidden deep underneath a thick icy exterior shell.
Now NASA's Glenn Research center's multidisciplinary COMPASS team has unveiled a proposal for an ambitious new mission that could see a probe melt its way down through the ice to search for evidence of life in Europa's subterranean ocean.
The concept study, which looks at the technologies that would be needed to undertake such a mission, suggests equipping the probe with radioactive 'bricks' to generate heat.
A separate lander to which the probe would be tethered could relay its findings back to Earth.
The mission would be large, expensive and complex, but theoretically doable with today's technology.
"We didn't worry about how our tunnelbot would make it to Europa or get deployed into the ice," said Andrew Dombard from the University of Illinois in Chicago. "We just assumed it could get there and we focused on how it would work during descent to the ocean."
Whether the mission will actually be undertaken however remains unclear - especially given the cost and the potential for contamination given that the probe will contain a nuclear power source.
As things stand, there are currently two orbital missions planned for Europa - NASA's Europa Clipper which will launch in 2023 and ESA's Ocean Worlds Exploration Program which is planned for 2022.
If the proposed tunnelbot does become a reality, it is unlikely to launch until much later.
Source: New Zealand Herald | Comments (11)
Similar stories based on this topic:
Tags: Europa, Jupiter