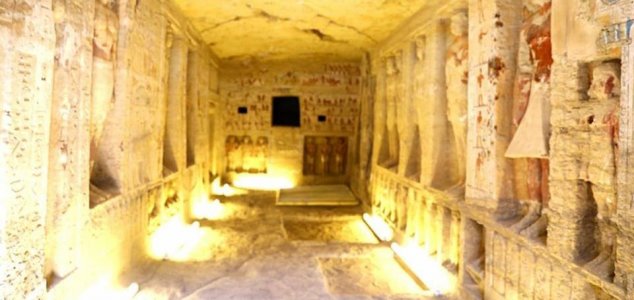 The tomb is in excellent shape.

Image Credit: Facebook / Egypt Ministry of Antiquities
A remarkably well preserved 4,400-year-old tomb has been discovered in the ancient city of Saqqara.
According to Egypt's minister of antiquities, the discovery, which was announced on Saturday, dates back to the rule of Neferirkare Kakai - the third king of ancient Egypt's fifth dynasty.
Its remarkable preservation is down to the fact that it has remained untouched since antiquity. Its interior, which measures 9 x 32ft, is adorned with colorful statues and hieroglyphics.
Archaeologists believe that the tomb is the final resting place of a royal priest and his family.
The excavation of the tomb began back in November and is expected to continue in January.
Source: New York Times | Comments (20)
Similar stories based on this topic:
Tags: Egypt, Saqqara, Tomb