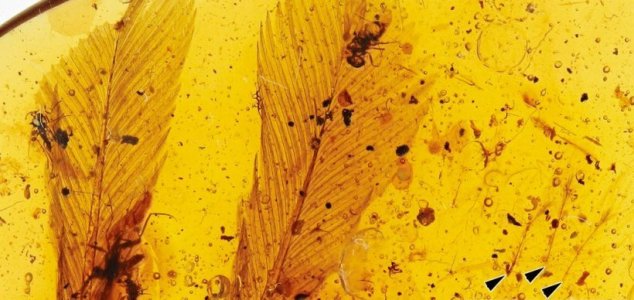 The feathers are quite unusual.

Image Credit: Xing et al. / Journal of Palaeogeography
Scientists have discovered some rather unusual feathers within pieces of amber dating back 100 million years.
The feathers, which were analyzed by a team of researchers led by Lida Xing of the China University of Geosciences in Beijing, are particularly interesting because they appear to be 'decoy' feathers that the birds could have quickly and deliberately shed to help them escape predators.
The mechanism is similar to how a lizard can leave its own tail behind to escape if it gets caught.
Some of these feathers, which were found preserved in 31 pieces of amber from Myanmar, would have been much longer than normal feathers - possibly even longer than the birds themselves.
Their structure is also particularly unusual and quite unlike the feathers we see today.
"The apparent ease of removal and muted colors observed in amber RDFs (rachis dominated feathers) may indicate a sacrificial role in defence, as well as usefulness in visual signalling," the researchers wrote.
"The reduced amount of material involved in building an elongate RDF with an open and thin-walled rachis may have helped to reduce the energetic costs of producing feathers that were in many cases as long as the total body length of their bearers."
Whether these feathers evolved from ordinary feathers, as oppose to following a separate evolutionary pathway, however, remains unclear.
Source: Science Alert | Comments (1)
Similar stories based on this topic:
Tags: Amber, Feathers